We've had quite a few snow days this winter. And if I'm going to be stuck in the house, seems like I should do something useful. So when cabin fever strikes, I whip out the sewing machine!
Kids Room 1 - high ceilings and lots of sunlight
I've been thinking about the 'kids rooms' for this house for quite awhile. And thanks to the snow, I've had time on my hands and was able to translate those ideas into a few extra touches.
Kids Room 1
- For the middle bedroom, I'm going to use this duvet and sham set I bought at Zara Home, while we were living in Europe. Don't you love the multi colored alphabet and the little fabric pom poms on the edges? I love the pops of color and really wanted to include them throughout the room.
Zara Home Kids Alphabet
With that in mind, I saw this llama at Target and just had to buy it. Seriously, isn't he adorable?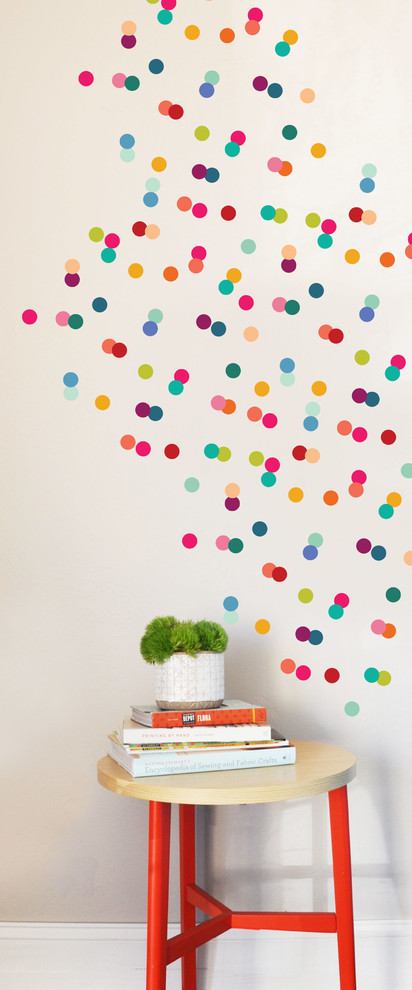 Houzz
I'd been inspired by this photo on Houzz. But I didn't think the future owners would appreciate me painting multi color dots all over their walls. So instead, I wanted to highlight the big, double window - and window treatments are the perfect way to do that.
And as luck would have it, I had some Pottery Barn white drapery panels on hand. They are the perfect blank canvas (literally) for an easy project.
This sponge applicator made perfect circles!
First step: This is a really simple DIY project. I started with a tarp on the floor, to protect from any paint soaking through. Then, I simply used acrylic paint to create the dots. At 99 cents a bottle, this was an inexpensive project.
The sponge applicator made perfect circles..... although a few needed additional fill in with a small paintbrush. Since we have so many colors from our duvet, I decided to go crazy and use 7 different colors. But for another project, you could use any color combo you wanted!
Now that the panels are done, I can't wait to get the room finished, so I can see what they look like, hanging from a curtain rod.
Kids Room 2: For the back bedroom, I've been dying to use this Pottery Barn Aiden pattern. I just love the cute little buildings and cars that are printed on this duvet and sham set. But I wanted to translate that into window treatments as well. They don't make a drape to match, so I tried to figure out what else I could do. I bought an extra sham and thought it would be cute to create a valance with the cute little buildings and cars on it.
Source: Pottery Barn Kids - Aiden
My friend Faith suggested I use a product called Steam-a-Seam2, to get the look, without a lot of work..
It lets you appliqué a pattern - with no sewing!!! Just cut it out, iron it on and it's permanent.
In a couple of hours, I had 3 valences put together. Pretty cool, don't you think?
Of course I'll need some art in this room, to add more pops of color. And I splurged on this Land of Nod canvas print. Don't you love the cross section of the ship?
Source: Land of Nod
We have lots more to do, so I won't get to use any of these for awhile. But they were fun to put together!
Pin It