The first staging item - traditional rug

This might seem odd, but I need to know the end of the story - aka the total design - before the first bit of demolition starts. Having that vision of the finished house design helps me navigate the path forward and the inevitable thousand questions that will come up. Sure, there will be twists and turns in the journey, but the end point is always pretty clear to me at the very beginning. (I don't know if this is how real designers work, but it works for me). I typically know where every piece of furniture will sit, every light fixture location, every plumbing fixture, etc. etc.
Sadly, I'm not there yet. COVID has made everything more challenging. Despite having a few months to plan this project - getting people lined up, getting samples sent, getting anything accomplished is fraught with delays. And often I pick something out and it's sold out before I can get it ordered. So we'll be starting with a squishy design that is making me very uncomfortable, but I'll have to live with it!
Original doorknobs
Here's what I do know. I want this house to reflect its 90+ years of existence. We'll honor its vintage charm and keep the original elements. I'm trying to ensure we have a timeless design, something that looks like it was collected over the years, not all purchased last week. So that means quality vs trendy. And antique elements that reflect the age of the house.
I've started creating a set of inspiration photos as I've gotten started.
I'm in love with this color palette by Alison Giese (link here). These warm, earthy colors are so typical of a bungalow! I'd like to use similar color ways.

Obviously we will have a brand new kitchen. But I want it to have the charm of an old one. These kitchens make me swoon! Don't you love this one?
And while our window placement won't allow an antique sink like this one - I still love everything else about this kitchen.
For the second floor bedroom suite, we're going to have some funky ceiling angles. So I'd like to celebrate them by drawing the eye up with reclaimed beams and dramatic light fixtures. Our ceiling will be a little different than this, but I love the idea of some exposed wood framing.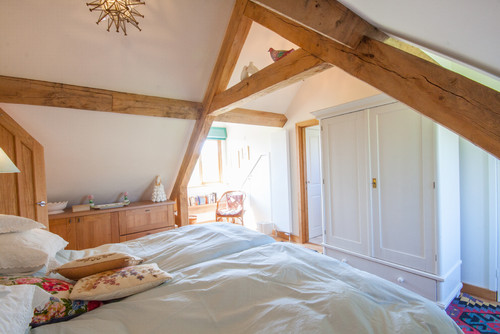 But first we need to finish building all the walls - stay tuned as we start working through the renovation.
Pin It